****Before I can even begin, I have to say how unbelievably heartbroken I am over the tragedy in Newton, CT. I actually had the computer pulled up to blog when I turned the TV on Friday afternoon and saw what had happened.. I then continued to sit there and just cry. I cannot imagine what those families are going through and am praying for a peace that surpasses all understanding. ****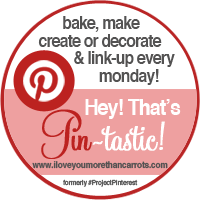 and I am also linking up at a -new to me- blog hop
here
!!
A few weeks ago I came across this idea on one of the amazing blogs I read,
eighteen25
. I immediately thought of my brother in law and sister in law and pinned it to my secret board
(PS: Raise your hand if you love the secret boards!!!)
so I could make it for them for Christmas.
I'm pretty sure you could look at it and see that there is no tutorial needed. You can buy the planks at Hobby Lobby. They have a few different sizes and shapes, too! Go ahead and pick up some chalkboard paint while you are there if you don't have some already.
Just follow the directions on the back of the bottle and voila! You have yourself a cute chalkboard! It obviously didn't take much paint and now I am itching to use it on something else. What is something you have used chalkboard paint on?? Do share!